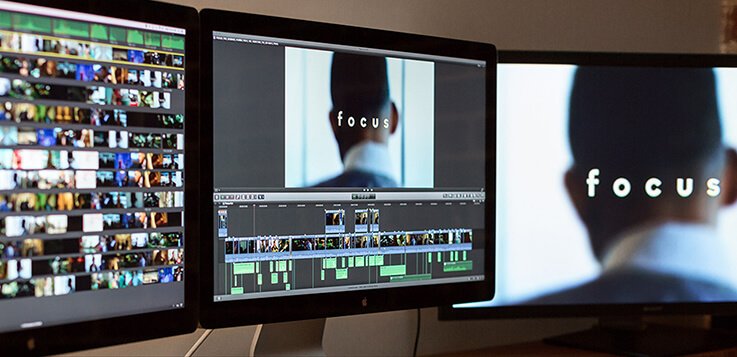 Take a video course with us and train with broadcast media industry experts
We provide industry expert training in both of today's most widely used video editing software packages, Apple Final Cut Pro X and Adobe Premiere Pro. We also provide post production training using Adobe After Effects. All of our video courses take place within our fully equipped studios.
Video Editing Courses
These one-day video editing courses are a great way to get to know your way around the applications user interface and start confidently editing your video. Our Apple Final Cut Pro course and our Adobe Premiere Pro course both give learners the opportunity to get comfortable with using a range of editing functions.
The decision whether to learn Apple Final Cut Pro or Adobe Premiere Pro will usually come down to whether you use a Mac or not – or whether you are already using the Adobe Creative Cloud. Final Cut Pro is designed for running on Mac OS, so if you work on a Mac this is a good option. Because the application is a one-time purchase, rather than a subscription model, some users will prefer this. However, if you are using Creative Cloud already, you won't need to need purchase Adobe Premiere Pro separately, so this may be more cost-effective for you. What's more, because Adobe Premiere Pro offers users the choice of using it on either Mac OS or Windows OS it is a more flexible option.
Post Production Training
Once you are comfortable editing you can move on to augment your video editing skills with professional post-production techniques using Adobe After Effects. After Effects offers a suite of tools for adding effects to your video content. So this makes it an essential app for a wide range of professionals, including: motion graphics designers, web designers, rich media artists and broadcast video editors.
Our After Effects course is delivered by a broadcast professional. It is useful for both novices and professionals who would like to increase their confidence when using this immensely powerful post-production software. The course covers all the techniques you need to successfully start using or significantly improve your command over the application.
Find your video course below. Make your selection to view the full course details.
As well as our scheduled courses we also deliver private, bespoke video editing and post production training. We also deliver training to private small group and one-to-one courses either in our studios or at your own offices. If you are unsure which course to take please contact us for a consultation.